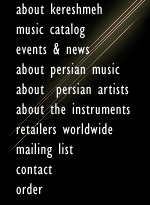 Biography:



Pejman Hadadi is a "virtuoso" Iranian Tombak and Daf player who has been hailed "the finest Iranian percussionist living in America" (KPFA Radio, Berkeley, Rhythm magazine). He began playing Tombak at the age of ten under the masters of the instrument Asadollah Hejazi and Bahman Rajabi. In 1990, upon immigration to the United States, Hadadi began his professional career, performing and recording with ensembles of Persian classical music as well as Indian, Turkish and American musicians.

In 1995, Hadadi joined Dastan Ensemble, one of today's leading "most-forward looking" Persian music ensembles. With Dastan, he has performed world-wide and toured extensively in the US, Europe and Iran. Over the years, Hadadi also became acquainted with some of the masters in Persian music such as Hossein Alizadeh, Shahram Nazeri, Hossein Omoumi, Parisa, Ali Akbar Moradi and Ardeshir Kamkar and performed with them.

Hadadi has also been the resident composer and performer with a Persian contemporary dance group, Namah Ensemble and has written compositions for dance. He has collaborated among others with percussionists Adam Rudolph, Brad Dutz and Greg Ellis. Hadadi has also performed with masters of Turkish music, Nejati Celik and Halil Karadoumon. Creating melodic patterns within rhythmic structures as well as experimenting with complex variations on the basic sounds of Tombak are part of Hadadi's modern approach to this traditional instrument.

Hadadi's recordings include Midnight Sun (7/8 Productions) with Hossein Behroozi-Nia; Through Eternity (Traditional Crossroads) with Dastan Ensemble; Fire of Passion (7/8 Productions); Whisper (Kereshmeh Records) with Ali Akbar Moradi; Tale of Love (Kereshmeh Records) with Parisa & Hossein Omoumi, Beyond Denial (X Dot 25) with Axiom of Choice and Scattering Stars Like Dust with Keyhan Kalhor. His credits include film and theater soundtracks such as The Prince of Egypt, numerous television and radio interviews with live performances including BBC Radio in London, KPFA, KPFK and KCRW stations in California.

Hadadi the recipient of the 2001-2002 Durfee Foundation Master Musician Award, currently resides in southern California where he teaches Tombak and Daf.






Available Works:



Tale of Love I - Esfahan (Tombak)
Tale of Love II - Nava (Tombak)
Whisper (Tombak, Daf, Nagada)