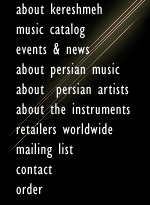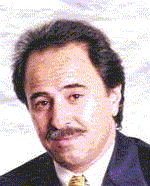 Biography:



Siamak Shajarian has been an active singer for over thirty years, and has extensive credits performing with such legendary artists as Grand Master Jalil Shanaz, Grand Master Faramarz Payvar, Master Mohammad Ali Kiani-nejad, Master Mohammad Esmaeli, and Master Farhang Sharif.

Born in Mashhad, Iran, Shajarian early musical life began in high school with the sponsorship of the Ministry of Culture and Arts in Mashhad. He inherited his talents in singing from his father and in calligraphy from his mother. Shajarian received his formal vocal education with Ghafoorian and Gholam Hossein Zahiredini, and completed his studies under the direction of his brother, Master Mohammad Reza Shajarian and Grand Master Mehrtash.

In addition to studying vocal Radif of Persian Classical music, Siamak has also studied Tar, Santur and Tonbak. After extensive study throughout his childhood and teenage years, In 1977, he moved to the United States to continue his education. He joined Oshagh Ensemble and gave numerous concerts across the U.S. and Canada. Shajarian has appeared on many festivals and radio interviews. His most recent recordings are "Kereshmeh" with Payvar ensemble and "Shoukh-e Sangdel" by Mohammad Ali Kiani-nejad. Currently he lives in Los Angeles where he teaches Persian Classical vocal Radif.





Available Works: